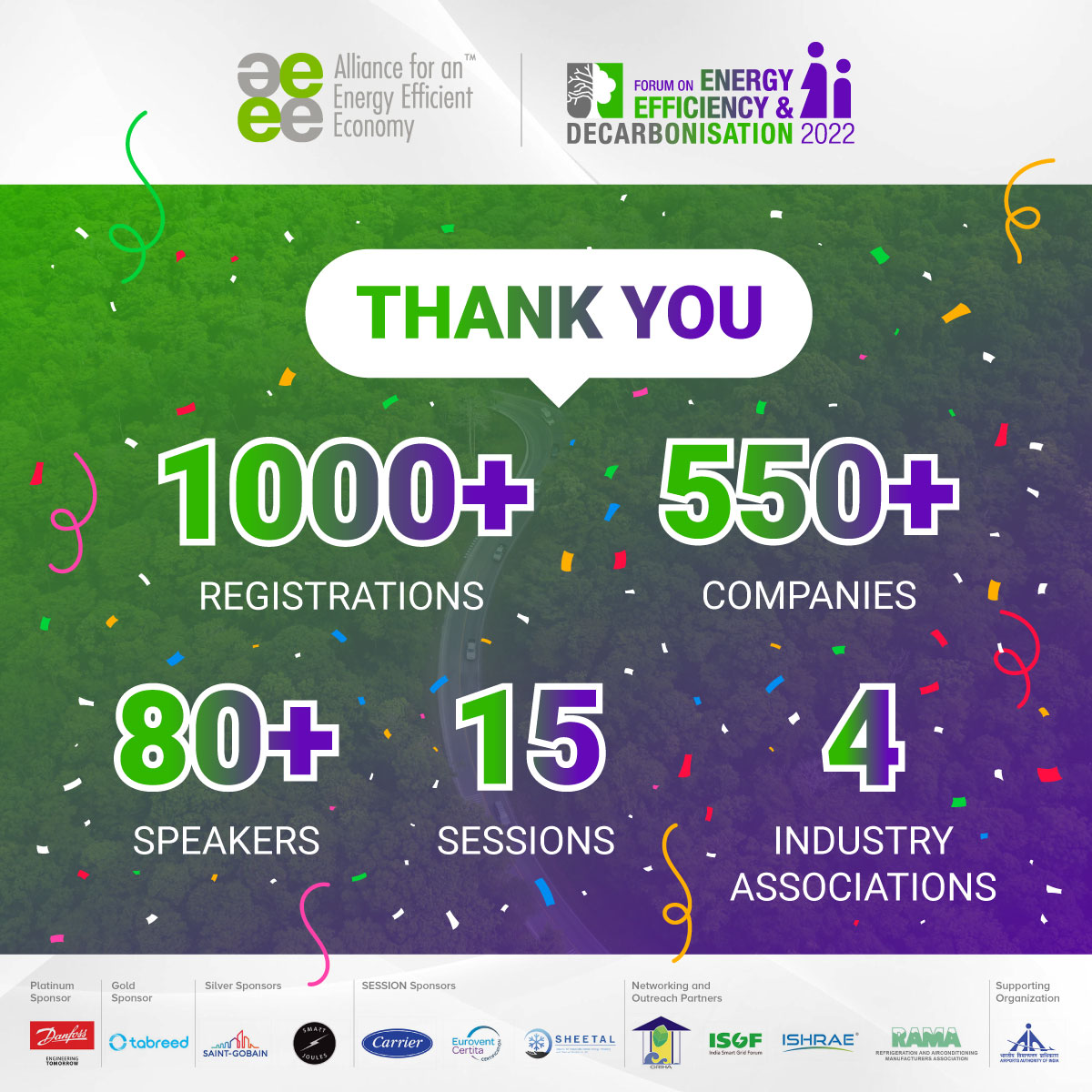 Alliance for an Energy-Efficient Economy (AEEE) curated the Forum for Energy Efficiency and Decarbonisation (FEED) 2022. The forum aimed to build a dialogue towards enabling India to become an energy-efficient economy. This year's event focuses on decarbonising India's economy through sectoral collaboration and cooperation, with particular focus on construction sector, power sector, transportation, digitalisation of energy systems, and sustainable cooling solutions.
India's economy has steadily grown at the rate of ~6.5% over the last two decades, and as our economy grows, so does our need for energy. An expanding economy, population, urbanisation and industrialization mean that India's energy demand will continue to rise. India is in a unique position to pioneer new models of net-zero, low-carbon, and inclusive growth leading to just transition. The aim for this year's forum was to reduce the carbon intensity of India's economy to less than 45 per cent by 2030, deliver 1 billion tons of CO2 emissions and enable a net-zero carbon economy – three pillars from the Panchamrit declaration made by our honourable PM at COP26 in Glasgow.
Dr. Satish Kumar, Executive Director and President, AEEE said "FEED serves as a platform to bring together eminent industry experts, thought leaders and decision-makers across private, public and non-profit sector to transform carbon reduction pledges into action against the backdrop of the ambitious Panchamrita commitments made by India's PM at COP26."
Dr. Brian Motherway, Head of the Energy Efficiency Division, International Energy Agency (IEA) said, "It is great to see energy efficiency measures become a part of the Union Budget released this year. It is commendable that India is moving towards net zero emission rapidly. What stands out about Energy Efficiency is that it makes peoples lives better, it doesn't just reduce energy usage and emission, it creates jobs, lowers energy bills, it makes homes more comfortable, makes schools have a better learning environment, hospitals have a healthier environment; all of these are benefits that energy efficiency can bring directly to all of us as citizens."
The unique hybrid event was spread across two days and witnessed over 1000 registrations and 65 speakers from a gamut of sectors including public, private, government, multilateral and bilateral organization. Business leaders from companies such as Carrier, Danfoss, Grundfoss, Saint-Gobain, Schenider Electric, Tabreed, Smart Joules, Oracle Utilities, Symphony deliberated and provided inputs in the varouos technical sessions that were held. Eminent personalities such as by Dr. Anil Jain, Secretary (Coal), Ministry of Coal, Mr. Abhay Bakre, Director General, Bureau of Energy Effiicency, Mr. Sanjeev Kumar, Chairman, Airport Authority of India, Dr. Brian Motherway, Head of the Energy Efficiency Division, International Energy Agency, Ms. Gauri Singh, Deputy Director General, International Renewable Energy Agency, Mr. Atul Bagai, Head, Country Office, United Nations Energy Programme, and representatives from MacArthur Foundation, Children's Investment Fund Foundation, Shakti Foundation, USAID, GIZ, POSOCO, McKinsey, Chief Electricity Regulation Authority, Refrigeration and Air-conditioning Manufactuers Asscoaition, Society of Indian Auto Manufacturers, Indian Institute of Petroleum, CII, CARBSE, Global Building Performance Network, etc.
At the FEED event, AEEE also initiated a Call for Action along with its member companies to other business communities to work together and to help the government deliver 100 GW from energy efficiency by 2030 with the help of policies, technologies, financing investments, and technology transfer. India has been at the forefront for implementing energy efficiency and renewable energy measures proving to be a leader in enabling clean energy access across the globe. The event was sponsored by Danfoss, Tabreed, Saint Gobain and Smart Joules. The event was also partnered with – GRIHA, ISHRAE, RAMA and India Smart Grid Forum (ISGF) for outreach and networking.